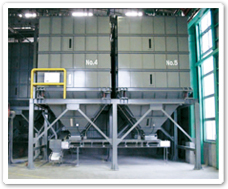 Raw Material Storage Silo
Outline
Our round silos and square silos have the sufficient strength for their structures. We provide you with stand alone silos and integrated silos.
You can choose conveyors for transporting your grains from our lineup including bucket conveyors, wrap conveyors, screw conveyors, and snake conveyors.
Features
(1) Silos made of steel plates can come in any capacity you like.
(2) You can add an aerator for long-term storage.
(3) Based on our rich experiences, the diameter, the size of the cylindrical part, the angle of the conical part, and other dimensions are designed according to the types of grains. It prevents the formation of a bridge or a rat hole.
(4) Since the load cell is adopted, the automatic control can be precisely performed to take in and out materials.
Specification
(Apparent specific gravity: 0.75)
| Capacity (t) | Volume (m3) | Diameter (mm) | Height (mm) |
| --- | --- | --- | --- |
| 50 | 80 | 3,800 | 9,500 |
| 75 | 120 | 3,800 | 11,000 |
| 100 | 160 | 4,000 | 16,000 |