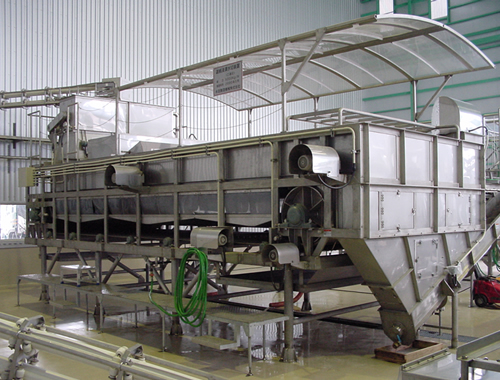 Netted Continuous Soaking Machine
Outline
This machine allows the material rice to absorb an appropriate amount of water and manages the draining process and the soaking process, which results in the steamed rice having a firm outer surface and a soft inner core. The draining process is managed, too. All these processes are performed in a two dimensional arrangement by this continuous soaking and draining machine.
Features
(1) The unmanned operation takes out the material and manages the following processes up to the inlet port of the rice steaming machine.
(2) The layer thickness on the netted conbeyor is kept unchanged and the rice is stirred during the process to ensure uniform soaking.
(3) The net is washed by a high-pressure washing system and brushes and is always kept clean.
(4) The two dimensional arrangement makes it easy for you to monitor and manage the processes.