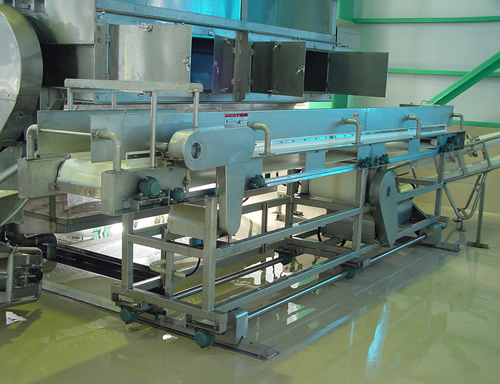 Koji Mixer
Outline
This unitl is installed at the exit of the cooling machine to continuously mix koji with the steamed rice without delay. This koji mixer has the belt to transfer the mixture to the next process. A seed koji sprinkler is mounted on the exit side. In addition, there is a breaking bar in the machine, which helps sprinkle the seed koji evenly.
Features
(1) The belt conveying system prevents the steamed rice from massing into a lump even if it is very hot during transfer.
(2) The seed koji is sprinkled evenly.
(3) The sanitary design simplifies the cleaning.
(4) A special resin belt has excellent durability.
Specification
| Model | Capacity (kg/h) | Width x Length x Height (mm) | Power (kW) |
| --- | --- | --- | --- |
| B,C | 1,500 | 470 x 2,700 x 1,280 | 0.4, 0.75 |
| D | 2,250 | 470 x 3,000 x 1,490 | 0.75, 1.5 |