HOME >
Products >
Koji Mold Making Machine, Try Best Type II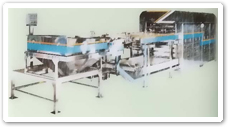 Koji Mold Making Machine, Try Best Type II
Outline
This machine has been developed through the joint research with Ayakiku Sake Brewing Co. Ltd. on the consignment in the technology development project by the Japan Sake Brewers Association. This automatic koji maker has a computer to control all the koji-making processes of the conventional
hako-koji
method such as loading moldy mass into trays, repositioning, mixing, ditching, and discharging. You can freely choose a control type according to the growing area, the variety, and the milling rate of your material rice so that you can make koji mold best suited for your purpose.
Features
(1) This koji mold making machine makes use of your conventional koji room and saves labor.
(2) The loading device automatically distributes a specific amount of koji mold into trays.
(3) The temperature difference caused by the position difference of koji trays (in the upper, middle, and lower positions) is offset by repositioning, which automatically rotates their positions.
(4) You can freely adjust the room temperature and humidity to keep the dry temperature difference of 10°C.
(5) Mixing and ditching are all performed automatically. The evaporation area is increased, and the production output is adjusted.
(6) You make koji mold according to the growing area of the material rice and the differences of the variety and the milling rate.
Specification
| Completed koji (kg) | Koji tray (mm) | Machine size (mm) | Power (kW) |
| --- | --- | --- | --- |
| 200 | 100 x 1,000 x 1,000 | 1,850 x 4,100 x 1,900 | 16.0 |
| 300 | 120 x 1,200 x 1,000 | 1,900 x 4,100 x 2,380 | 16.0 |
| 400 | 120 x 1,385 x 1,385 | 2,070 x 4,550 x 2,400 | 18.0 |