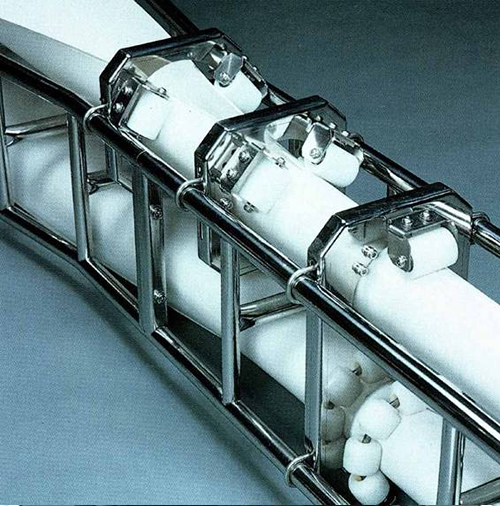 Wrapveyor
Outline
This conveyor system conveys materials in the tubular belt.
Features
No spills and foreign matter contamination

Materials are conveyed in a tubular belt, which prevents spills, scattering, and foreign matter contamination.

Substantially reduced cleaning time

Conventionally, transferring loose materials brings difficulty in cleaning of the conveyor and its peripheral modules. Our Wrapveyor is designed to prevent spills for quick cleaning, which ensures a clean workspace.

Wrapveyor suits the following purpose.

The inside surface of the hopper is Teflon-coated, and an electric heater is attached around the outside surface. Thus, the temperature of the hopper is controlled to prevent a bridge that may be caused by moisture.
* The hopper can hold about 4 kg of seed koji.

One-touch hose fitting

The Wrapveyor is best suited for the direct transfer of the materials (processed beans, coffee beans,

sake

rice,

miso

, cereals, fruits, and various types of powder) for the food processing including

miso

,

shoyu

, wine, bread, confectionery, and coffee.
Specification
Model
Pipe dia. (mm)
Belt width (mm)
Cross-section area
(m2)
Filling ratio (%)
Belt
Width (mm)
Height (mm)
Frame
Drive unit
Tail unit
Intermediate unit
WP-100
100
380
0.058
75
White resin
(food grade)
554
318
466
SUS ø34 x t3
WP-150
150
600
0.0132
793
386
510
SUS ø42.7 x t3